Where is the Classic View in Microsoft Word 2007, 2010, 2013 and 2016?
I would like to discuss an issue with you, which is related to the user interface of Microsoft word.
Many control and keyboard shortcuts are not available in Word 2007, 2010, 2013 and 2016. For example, you cannot use Ctrl + P to get printing, or Ctrl + V to open view menu. In fact, the ribbon interface does abandon the menu and toolbars style. It redesigns the position of each function and button, gathers them into specific groups under logical order.
No matter if you put Microsoft Office for personal used, or for commercial used (organization, company, etc.), you can get the classic view under the processing of Word 2007, 2010, 2013 and 2016. You don't need to return back to Word 2003, because it is lack of many advanced features that developed in Word 2007, 2010, 2013 and 2016. Here is an awesome add-in provides a suitable solution, which you can enjoy the new functions in the new version of Word, and also under the familiar user interface of Word 2003/XP(2002)/2000. You can get the benefit from the both two version. 
Sounds fantastic? Yet just take a look at the add-in. It is definitely designed for Microsoft Office 2007, 2010, 2013 and 2016. Check out the screenshot you may find the familiar work style coming back. 

---
More Tips
---
What is Classic Menu for Office
The software Classic Menu for Office is designed for the people who are accustomed to the old interface of Microsoft Office 2003, XP (2002) and 2000. It brings back the classic menus and toolbars to Microsoft Office (includes Word) 2007, 2010, 2013 and 2016. The classic view helps the people to smoothly upgrade to the latest version of Office, and work with Office 2007/2010/2013/2016 as if it were Office 2003 (and 2002, 2000).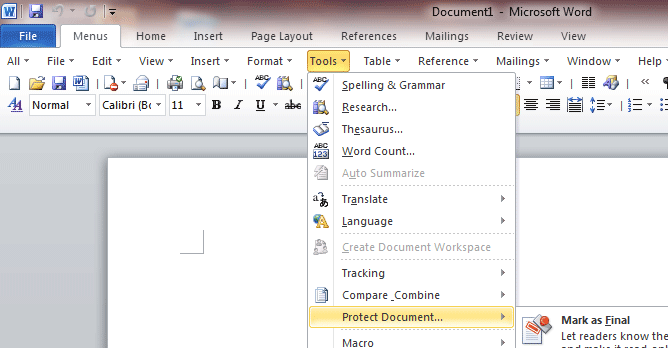 Screen Shot of Classic Menu for Word
All new features and commands of Office 2007, 2010, 2013 and 2016 have been added to the menus and toolbars;
Without any training or tutorials after upgrading, users can work with Office 2007/2010/2013/2016 immediately;
Easy to find any command items you want to process;
Easy to show or hide the classic menus, toolbars and ribbon tabs;
Easy to install and use. Supports all languages. Free download!
| | | |
| --- | --- | --- |
| | | It includes Classic Menu for Word, Excel, PowerPoint, OneNote, Outlook, Publisher, Access, InfoPath, Visio and Project 2010, 2013 and 2016. |
| | | It includes Classic Menu for Word, Excel, PowerPoint, Access and Outlook 2007. |