Where is the Undo Button in Microsoft Word 2007, 2010, 2013, 2016 and 2019
Method A:
With Classic Menu for Word 2007/2010/2013/2016/2019 installed, you can click Menus tab to get back the classic style interface. Then, find out the Undo button in the toolbars. If you want to return back to more than one action, please click the arrow next to Undo, and then choose the action you want to return.

Method B:
Click Menus tab
On Edit menu, choose Undo in the drop down menu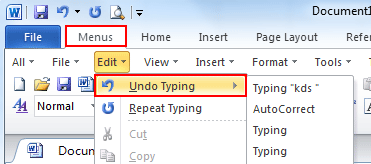 ---

If you are not using Classic Menu, it means that you are getting used to the Ribbon. It is very fast for you to undo the actions. Please find the Undo mark

in the quick access toolbar. Click it; you can start the undo action. If there is no such a mark, it means you need to add it into your quick access toolbar. Click the rightmost arrow in the quick access toolbar, and choose the Undo item, then you will successfully add it into the quick access toolbar.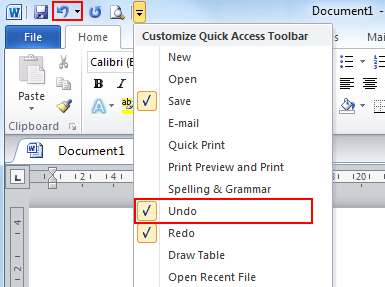 ---
More Tips
---
What is Classic Menu for Office
The software Classic Menu for Office is designed for the people who are accustomed to the old interface of Microsoft Office 2003, XP (2002) and 2000. It brings back the classic menus and toolbars to Microsoft Office (includes Word) 2007, 2010, 2013 and 2016. The classic view helps the people to smoothly upgrade to the latest version of Office, and work with Office 2007/2010/2013/2016 as if it were Office 2003 (and 2002, 2000).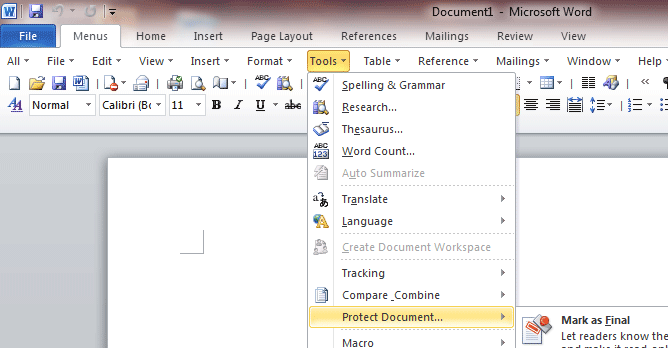 Screen Shot of Classic Menu for Word
All new features and commands of Office 2007, 2010, 2013 and 2016 have been added to the menus and toolbars;
Without any training or tutorials after upgrading, users can work with Office 2007/2010/2013/2016 immediately;
Easy to find any command items you want to process;
Easy to show or hide the classic menus, toolbars and ribbon tabs;
Easy to install and use. Supports all languages. Free download!
| | | |
| --- | --- | --- |
| | | It includes Classic Menu for Word, Excel, PowerPoint, OneNote, Outlook, Publisher, Access, InfoPath, Visio and Project 2010, 2013 and 2016. |
| | | It includes Classic Menu for Word, Excel, PowerPoint, Access and Outlook 2007. |